About Telia CA Proxy

Telia Certificate Service Telia CA Proxy Service enables replacement of self-signed Microsoft AD CA certificates at customer IT systems with high-quality and secure Telia certificates.
The service combines proven Microsoft certificate deployment processes with high-level security certificates.
With Telia Certificate Service you avoid investments into Public Key Infrastructure specialists in your organization.
PKI processes at Telia are of high security level and they are audited annually
As a customer of Telia Certificate Service, you are provided with correct and up-to-date certificate extensions, algorithms and PKI procedures
CA-level keys are in HSM devices (Hardware Security Module) located at highly secure premises with audited security classifications
All processes are documented
You can procure both publicly trusted certificates as well as low-cost private certificates using same tools
Service is compatible with all digital certificate use cases, for example:
X802.1xr device certificates for workstations and if needed, also for mobile devices
SMIME certificate for email encryption
Client certificates for strong authentication
Server certificates for webpages and other network devices
An illustration of a sample solution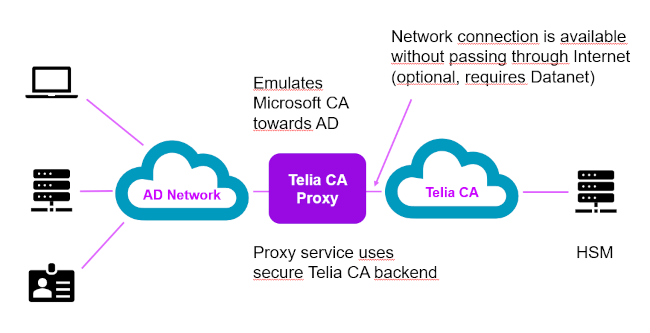 Service features

A customer CA is created and keys are protected using Telia HSM devices
Telia CA Proxy software is deployed at one to two customer AD domain controllers
Normal Windows certificate requests are routed to Telia HSM backend service
Certificate contents, extensions and checks are agreed with Telia
Current recommendation is to use Offline Root CA with Sub CA's below that for various certificate types
OCSP (Online Certificate Status Protocol) is optional, CRL (Certificate Revocation List) is always included
Telia certificate portal comes with the service. The portal contains management for these certificate types:

Public TLS certificates
Private certificates for AD networks

The portal enables following management actions:

Certificate revocation
Creation of public and private certificates as a self-service
Certificate expiration warning feature
Pricing, ordering and deployment
The service comes with a monthly price. The price is depending on:

Number of CA certificates (root and issuing level certificates)
Number of end-user certificates
Fee for OCSP service

Inquiries about ordering and pricing:
Service deployment takes place as an co-operation project. Telia handles configuration and creation of CA certificates. Certificate contents and checks are specified by customer and implemented by Telia. Telia CA Proxy software is deployed as a common project by Telia and customer. At the end of the deployment project creation of certificates, certificate contents are approved. As a final act the service is moved into production mode